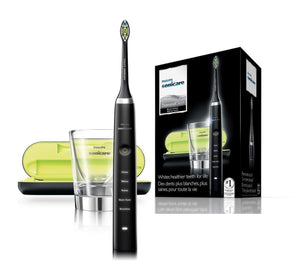 Philips Sonicare Diamond Clean HX9352/04 Electric Tooth Brush New Black Edition
Philips Sonicare Diamond Clean 
HX9352/04
 Black electric tooth brush New Black Edition
Teeth white and healthy for life
The best electric toothbrush from Sonicare whitening
The best Sonicare bleach in the most elegant electric toothbrush Philips Sonicare. Switch to Sonicare.
• Eliminates up to 7 times more plaque
Eliminates up to 7 times more hard-to-reach places plaque than a manual toothbrush
•Improves gum health
This Philips Sonicare electric toothbrush provides optimal cleaning between teeth and along the gums to improve the health of the gums in only two weeks. It provides superior cleaning between the teeth and removes significantly more plaque of a manual toothbrush
• Whitens teeth 2 times better
This Philips Sonicare toothbrush bleaching teeth more than 2 times better than a manual toothbrush in just 1 week. Removes up to 100% more spots for whiter teeth in just 1 week.
• Brush DiamondClean head
DiamondClean, the best head of Philips Sonicare whitening brushing dental brush, head has medium diamond shaped bristles to scrape the plate with efficiency and gentleness. This Philips Sonicare electric toothbrush provides exceptional cleaning and whiter teeth compared to a manual toothbrush.
1) charger glass: simply place the electric toothbrush Philips Sonicare in the glass to charge. It can also be used to rinse your mouth after brushing.
(2) load travel case-
Connects to your laptop via USB or can be loaded via a wall outlet. It allows you to take your DiamondClean in any place, anywhere.
Best tooth whitening of Philips Sonicare: this toothbrush helps to eliminate and reduce stains on the teeth for a brighter smile.
• Gentle cleaning of teeth and gums
Philips Sonicare toothbrush with sensitive mode: mild cleaning but thoroughly for sensitive gums
• Patented Sonic technology
Unique dynamic action electric toothbrush Sonicare Philips becomes soft and effectively deep between teeth and along the gum line.
2 minutes in this Philips Sonicare Electric timer
toothbrush helps ensure dental professional
recommended brushing time
• Clean: for outstanding daily cleaning
• Gum care: gently massage gums
• Polish: brightens and polishes your teeth
• Sensitive: gentle teeth and gum cleaning
• White: it removes surface stains
• Brush head: 2 standard DiamondClean
• Travel case: USB travel charger
• Speed: up to 31,000 brush strokes / min.
• Performance: removes up to 100% more plaque
• Health benefits: improves the health of the gums in only two weeks
• Whitening benefits: whitens teeth 2 times better
• Timer: Quadpacer and Smartimer
• Brush head: brush heads easy to click
• Brushing time: up to 3 weeks *
• Battery indicator: lighted icon indicates the battery life
• Handle: ergonomic design slim
• Display: backlit display
Especificaciones Técnicas
• Battery type: lithium-ION
• Time (full to empty): up to 3 weeks
---
We Also Recommend